Anniversary Gifts by Year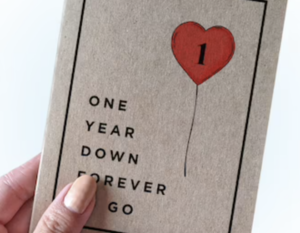 Some significant anniversaries have names which suggest appropriate or traditional gifts. These gifts may be exchanged by spouses or given by guests at parties; they may also influence an anniversary party's theme or decoration.
These gifts vary in different countries, but some years have well-established connections now common to most nations: 5th Wood, 10th Tin, 15th Crystal, 20th China, 25th Silver, 30th Pearl, 35th Jade, 40th Ruby, 45th Sapphire, 50th Gold, 60th Diamond, and 70th Platinum. In English-speaking countries the first, wooden, gift was cut on the day of celebration and then presented to the wife as a finished article before the next two quarter days had passed.
Gift idea links from Amazon provided below – We are an Amazon affiliate. This means that, at zero cost to you, we will earn an affiliate commission if you click through the link and finalize a purchase.
1st Anniversary: Paper
2nd Anniversary: Cotton
3rd Anniversary: Leather
4th Anniversary: Fruit or Flowers
5th Anniversary: Wood
6th Anniversary: Candy or Iron
7th Anniversary: Wool or Copper
8th Anniversary: Pottery or Bronze
9th Anniversary: Willow or Pottery
10th Anniversary: Tin or Aluminum
11th Anniversary: Steel
12th Anniversary: Silk or Linen
13th Anniversary: Lace
14th Anniversary: Gold Jewelry
15th Anniversary: Crystal
16th Anniversary: Coffee or Tea
17th Anniversary: Wine or Spirits
18th Anniversary: Appliances
19th Anniversary: Jade
20th Anniversary: China
21st Anniversary: Fire
22nd Anniversary: Water
23rd Anniversary: Air
24th Anniversary: Stone
25th Anniversary: Silver
26th Anniversary: Art
27th Anniversary: Music
28th Anniversary: Linens
29th Anniversary: Tools
30th Anniversary: Pearls
31st Anniversary: Travel
32nd Anniversary: Bronze
33rd Anniversary: Iron
34th Anniversary: Food
35th Anniversary: Coral
36th Anniversary: Antiques
37th Anniversary: Books
38th Anniversary: Luck
39th Anniversary: Laughter
40th Anniversary: Ruby
41st Anniversary: Office or Desk Decor
42nd Anniversary: Clocks or Watches
43rd Anniversary: Entertainment
44rd Anniversary: Electronics
45th Anniversary: Sapphire
46th Anniversary: Games
47th Anniversary: Garden or Plants
48th Anniversary: Home Improvement
49th Anniversary: Copper
50th Anniversary: Gold
51st Anniversary: Photos or Cameras
52nd Anniversary: Bath or Spa
53rd Anniversary: Plastic
54th Anniversary: Glass
55th Anniversary: Emerald
56th Anniversary: Day
57th Anniversary: Night
58th Anniversary: Faith and Hope
59th Anniversary: Charity
60th Anniversary: Diamond