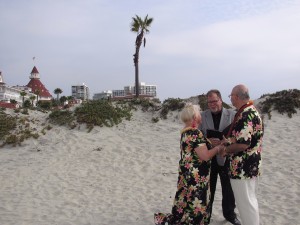 Your San Diego Vow Renewal ceremony will be everything you would hope and expect it would be; lighthearted, fun, happy, emotional and most of all romantic… all wrapped up into a very special and magical moment. You choose from 3 types of ceremonies, the ceremony that most fits your type of personality and belief, not ours!
As Chaplains, we can observe the faith, belief and even non belief of our couples without  judgement or religious agenda.
Civil/Secular (Non-Religious with a few romantic readings)

Spiritual (with God's love, a Prayer and Blessing)
Non-Denominational (Christ Centered w/ Prayer, Blessings and Scripture)
Our couple are given the opportunity and encouraged to:
Speak openly to each other either from the heart or from a prepared message during the ceremony.
Include children.
Exchange new rings. (With a ring blessing if desired)
Include the "Lei Ceremony" if desired. (Lei's must be provided by couple)
Your love…. Your passion…. and the celebration you have dreamed of without all the hassles (and expense) of a wedding and best of all…..The Views!